ACQUIRE ELECTRONICS FROM PATABAY VIA LIPA MDOGO MDOGO, LIPA POLEPOLE AND LIPA LATER SERVICES
You can Lipia pole pole for any electronics including but not limited to the following;
Lipia pole pole laptops, computers
Lipia pole pole PS4, PS5
Lipia pole pole Phones
Lipia Pole pole fridges
Lipia pole pole cookers
Lipia pole pole Washing machines
Lipia pole pole Freezers
Lipia polepole Lipa mdogo mdogo and Lipa Later
Patabay is one of the best online shops where one can get all electronics that range from both Large and Small Home Appliances, Laptops, Phones and Tablets, Computers, Televisions, Home Theaters, Solars and Gas Cylinders. The shop partners with product manufacturers to ensure that they satisfactorily meet their customers' needs by providing quality and durable products. They also offer after sales services as per the warranty just in case of breakage.
With the dynamic modern technology, it has become a necessity to acquire all the aforementioned electronics to be able to conveniently meet human needs. However, the buying power may not guarantee a customer to acquire replacing an old appliance or getting a new one with the tough economic times. Hence, Patabay thought it would be fair enough to introduce the Lipia pole pole services via Flexpay to enable their customers to acquire the products with easy monthly installments.
Lipia polepole Lipa mdogo mdogo and Lipa Later video
When it comes to purchasing an item in installments, there are two types.
Flexipay lipia polepole – Where the customers identify the electronic, reserves it, lipia pole pole and acquires it once they complete paying the installments at 0% interests.
Lipa Later – Where the customer identifies the electronic, gets financing to acquire the item, and start paying in monthly installments.
LIPIA POLE POLE SERVICE IN KENYA BY PATABAY via FLEXPAY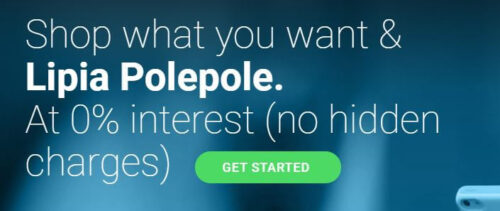 Flexpay is an automated, reliable, and accurate save to buy purchase platform that enables customers to afford goods and services. Flex Pay allows customers the flexibility to pay money to the platform at any time. The service enables Patabay customers to purchase electronics of their choice through a flexible plan of either daily, weekly or monthly installments. To be precise, the lipia pole pole has 0% interest and allows the customer to preserve their item, give them enough time to pay the interest-free fee and eventually own the item via Lipia polepole Lipa mdogo mdogo and Lipa Later
How Flexpay works
Customers can use Patabay online and offline. One can easily get started by creating an account from Patabay and search for the product. To set the flex goals, the customer needs to identify the product feel the lipia polepole to set his or her budget and their payment timelines, in this case, 90 days for Patabay Kenya. Patabay customer care will then call/Text to confirm the item and can start making the payments.
How to reserve a product
To reserve a product Lipia polepole Lipa mdogo mdogo and Lipa Later: Visit https://www.patabay.co.ke/
Identify a product
An agent registers you or choose lipia polepole button on the website
Deposit some amount, then you are good to continue with lipia polepole.
Check your balance by dialing *384*30#
Once you are done with your payments, Patabay will deliver the item at your doorstep and hence you will not have to worry about shipping. Please note; The total amount payable will not change
LIPA LATER SERVICES IN KENYA
Lipia polepole Lipa mdogo mdogo and Lipa Later
Lipa later is a risk-free, financial service provider that allows customers to acquire what they need and then they pay later. This allows customers who are really in need of a certain electronic but cannot afford it in cash but can afford to settle the bill in a comfortable 12 months installment plan. This is a rare service by Lipa Later Kenya that does charge any fees to join. The service also has a Lipa Later interest rate at 4% of the amount spent.
Who qualifies for a Lipa Later service or Lipia polepole Lipa mdogo mdogo and Lipa Later?
The service benefits salaried people who earns at least Ksh. 35,000 and where one is in business, they have to provide a 6 months M-pesa statement and Bank statement.
How Lipa later works
Lipa later terms and conditions can be obtained from their websites or by walking in their partner shops.
• Apply – Fill in our quick application form that captures your personal details and the exact item you would like.
• Take a face selfie – To verify your application, capture your selfie by giving them your clear passport size photo
• Submit Mpesa Statement – From the app, you can seamlessly send us your 6 month's Mpesa Statement. (We use your statement in analyzing your application)
• Pay the deposit if there is any as per the contract
• Accept & Collect your Item – Once approved, you will be notified on how to accept their terms and conditions and receive instructions on how you will get your item!
• In-app Monthly Payment – Once you have your item, Receive payment notifications and seamlessly pay for your monthly installments directly from within the app.
• Full Payment History – Get a full breakdown of all the payments you have made to Lipa Later.
• Please note that lipa later charges interest and the total payable amount may vary from the amount on the receipt.
Terms and conditions for Lipa Later Find here
Lipia polepole Lipa mdogo mdogo and Lipa Later advantages
Advantages of Flexpay Lipia Polepole over others
No Interest
Its save to buy and you get refund if you change your mind
No CRB or default problem
Its cheaper in the Long run since some loans you pay twice the item cost.
Anyone can join lipia polepole via Flexpay.
Lipia polepole Lipa mdogo mdogo and Lipa Later
Lipa mdogo mdogo phones
Flexpay, in collaboration with Patabay have launched the Lipa Mdogo Mdogo smartphones payment plan which will allow our customers to access quality smartphones for a deposit of Ksh 500 and a flexible monthly weekly or daily payment with zero interest and the customer picks upon completion of payment.
For more information Visit Patabay or call 0711477775
Shop for Tvs and Sound systems
Shop for Phones laptops and gaming
Category: news blog