Best Phones Under 20k
When you are short of cash and you want a quality but low budget phone you need to consider a lot in terms of features and your purchasing power. Cheap smartphones sometimes come with their shortcomings, but there are good smartphones available under Kshs. 20k in Kenya.
Best Phones Under Kshs. 20,000 in Kenya
If you're are looking for a phone under Kshs. 20,000, you'll get several smartphone options. But not every phone in that range is great. Most smartphones under Kshs. 20,000 are low quality, but some are exceptional, offering a better value for your money.
Below I have compiled a list on the best low budget smartphones under Kshs 20, 000 you can find in the market if you are looking for one but before that, we will take you through what you need to consider before buying one.
What to consider when buying a smartphone: Best Phones Under 20k in Kenya
Storage and Memory: Best Phones Under 20k in Kenya
A large part of the phone storage is used by OS and the apps the device comes installed in it, so you will need a phone that has a bigger storage as you will need to save more files and images. The larger the storage the better the phone but this may cost you more.
You also need to consider the size of the RAM or Random-Access Memory which is the storage used to hold temporary data. The smaller the size of RAM, you may find that the phone will start to slow down especially if you have opened and used lots of different applications at the same time. Therefore, its better to go for phones with larger Ram and storage if it meets your budget.
Camera: Best Phones Under 20k in Kenya
Some phones come with good specs by showing higher pixel camera but when you take a photo the image looks blurred. So sometimes camera depends on the brand quality.
Battery: Best Phones Under 20k in Kenya
If you are a heavy phone user and work on many apps, stream videos, chat online and more then go for a phone with at least 4000mAh battery or more power. If you are not so heavy phone user, a smartphone with less 4000mAh battery would be good enough to run for a full day. Your choice of battery can also be limited by your budget so you need to consider your pocket as phones with higher battery cost more.
Display: Best Phones Under 20k in Kenya
Are you being a fan of large screens 6 inch and above or you prefer the small sized screens, majority prefer phones not bigger 6 inch as that will make the phone look bulky?
Best Phones Under 20k in Kenya Selected list
Xiaomi Redmi 9A – Ksh 9,999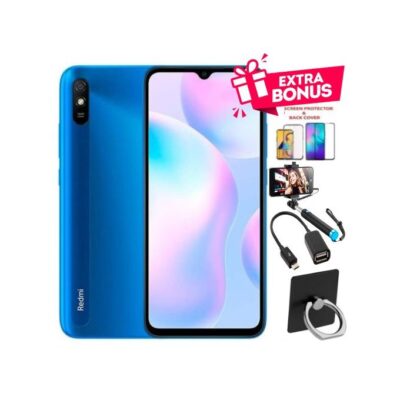 KEY FEATURES: Best Phones Under 20k in Kenya Selected list
Display: 6.53" HD+
CPU: MediaTek Helio G25
OS: Android 10
Memory: 2GB RAM + 32GB
Rear Camera: 13MP
Front Camera: 5MP
Battery: 5000mAh
Buy here on discount or chat with via WhatsApp or call 0711477775 or 0711114001
Infinix smart 5 – Ksh 9,999
KEY FEATURES
Display: 6.6 inch HD+ WaterDrop IPS Screen
Memory:32GB ROM, 2GB RAM
Camera: 8MP + QVGA Back Camera, 8MP Front Camera
CPU: Quad-core 1.3 GHz CPU
Battery: Li-ion 5000mAh Battery
Fingerprint Sensor
OS: Android OS 10( Go Edition)
Xiaomi Redmi 9c – Ksh 11,999
KEY FEATURES
Display: 6.6 inch HD+ WaterDrop IPS Screen
CPU: MediaTek Helio G35
RAM+ROM — 2GB + 32GB
Camera: 13 MP AI Triple Camera +5MP Front Camera
Battery:5000mAh(Typ)
Buy here on discount or chat with via WhatsApp or call 0711477775 or 0711114001
Xiaomi Redmi 9 – Ksh 14,999
KEY FEATURES: Best Phones Under 20k in Kenya Selected list
Media Tek Helio G80 Octa Core
6.53″ FHD+ Dot Drop Display
RAM+ROM — 4GB + 64GB
13MP+8MP+5MP+2MP Quad Rear Camera, 8MP Front Camera
5020mAh(Typ), 5V/2A Charger, Support Quick Charging TM 3.0 Technology and 18W Fast Charge
Realme C12 – Ksh 14,999
KEY FEATURES
6.5″ IPS LCD HD+ Mini-drop Full screen Display, Corning Gorilla Glass
Resolution: 720 X 1560 pixels
MicroSD Slot, Upto 256GB (Dedicated slot)
6000mAh Non-removable Battery
Standard charging 10W, Supports reverse charging
Android 10
Fingerprint sensor
Dual Nano SIM
Xiaomi Redmi 9T – Ksh 16,500
KEY FEATURES
Qualcomm Snapdragon 662(11nm)
6.53″ FHD+ Dot Drop Display
RAM+ROM — 4GB + 128GB
48MP+8MP+2MP+2MP Quad Rear Camera, 8MP Front Camera
6000mAh(Typ), 5V/2A Charger, Support Quick Charging TM 3.0 Technology and 18W Fast Charge
Buy here on discount or chat with via WhatsApp or call 0711477775 or 0711114001
Nokia 2.4 – Ksh 12,500
KEY FEATURES
Display Size: 6.5″ HD
Memory: 3GB RAM + 64GB internal storage
13MP Dual rear camera
5MP Selfie Camera
Battery: 4500MAh
OS: Android 10
Fingerprint scanner
Buy here on discount or chat with via WhatsApp or call 0711477775 or 0711114001
Infinix note 8i – Ksh 16,500
KEY FEATURES
Display: 6.78″ HD
Memory: 64GB + 4GB RAM
Rear Camera: 48MP + 2MP + 2MP + AI lens
Front Camera: 8MP
OS: Android
Battery: 5200 mAh
Samsung A02 – Ksh 12,500
KEY FEATURES
Battery Capacity (mAh, Typical) 5000
Removable No
Dimension (HxWxD, mm)164.2 x 75.9 x 9.1
Weight (g)196
RAM_Size (GB)3
ROM Size (GB)32
Available Memory (GB)20.5
External Memory Support MicroSD (Up to 1TB)
Samsung A12 – Ksh 15,500
KEY FEATURES
Size (Main_Display)165.5mm (6.5″)
Resolution (Main Display)720 x 1600 (HD+)
Technology (Main Display)PLS TFT LCD
Color Depth (Main Display)16M
RAM_Size (GB)4
ROM Size (GB)64
Available Memory (GB)48.4
External Memory SupportMicroSD (Up to 1TB)
Tecno spark 5 pro – Ksh 13,500
KEY FEATURES
Size: 6.6″ IPS LCD
Memory: 64GB + 3GB RAM
16MP Quad Rear Camera
Front Camera: 8MP
OS: Android Q
CPU: Octa-Core Processor
4G VOLTE
Battery: 5000mAh Battery
Tecno camon – Ksh 17,500
KEY FEATURES
6.6″ Dot-in Display
Memory : 4GB Internal Storage: 128GB
Processor: MTK G85
OS: Android R
Camera 8MP/48MP+2MP Depth Camera+AI Lens
Battery :Capacity: 5000mAh
Supports 18w flash charge
Buy here on discount or chat with via WhatsApp or call 0711477775 or 0711114001
Conclusion: Best Phones Under 20k in Kenya
There are many excellent smartphones under 20k in Kenya, equally there are many substandard phones that you will wish to have bought them. Luckily due to competition budget phones are slowly getting better and their quality is improving. the above comprises of major brands Like Samsung, Infinix, Tecno and Redmi which we have carefully selected
Buy here on discount or chat with via WhatsApp or call 0711477775 or 0711114001
Shop for Tvs and Sound systems
Shop for Phones laptops and gaming