Von Hotpoint showcase chillers HPBC198W in Kenya Vertical Cooler, 188L – White+Grey show case chiller and display fridge
Von Hotpoint showcase chillers HPBC198W prices in Kenya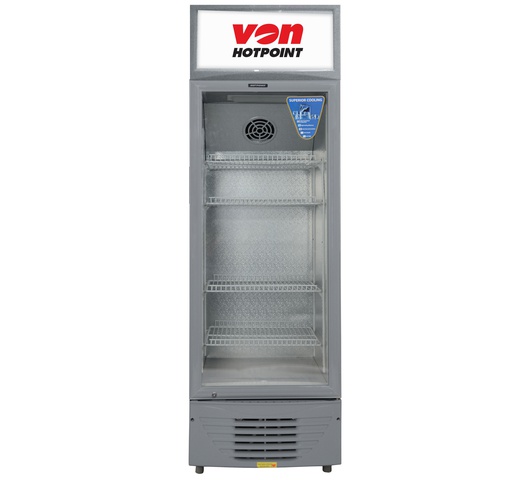 Von Hotpoint showcase chillers HPBC198W Product details
With a history of trusted innovation, Von Hotpoint have real insight into the demands of modern life. So they not only look great in your living room area, but also make life easier by delivering outstanding results. The Von Hotpoint cooler is a must have household appliance. Order your Von Hotpoint Tropicalised Vertical Cooler with Double glass door from Patabay Kenya and have it delivered at your doorstep.
Energy efficient
It is built to be efficient in storing your food and drinks and performs its functions while keeping an eye on your energy bills. It keeps your food fresh while keeping your power bill manageable. It is a cooler that is designed for low energy consumption and makes no noise at all. It has a light inside that makes it adaptable to use even at night.
Fast Cooling
If you are looking for a cooler that will not disappoint, then this Von Hotpoint cooler would be your best/ With a fan assisted cooling system you are assured of faster cooling of your foodstuff without having to wait for long.
Lockable
Most times looking for a cooler that will keep your food cool and safe can be a demanding process. With this Tropicalised Vertical Cooler with Double glass door it offers you the comfort of both safety and cooling since it is lockable.
Key Features
7Cuft Tropicalised Vertical Cooler with Double glass door
Capacity: 198 Litres
Silver Aluminum Interior
Fan assisted cooling system
Lockable
Castors
Lamp
Backlit Canopy with cool blue finish
Easily adjustable shelves with hooks
Pocket Handle for easy opening
External: White body, Silver door and grill
KEY FEATURES
7Cuft Tropicalised Vertical Cooler with Double glass door
Fan assisted cooling system
Lockable
Pocket Handle for easy opening
Von Hotpoint showcase chillers HPBC198W SPECIFICATIONS
SKU: VO144HL0V1HLCNAFAMZ
Capacity (L): 188
Main Material: –
Size (L x W x H cm): 55.7*49.5*171.4
Weight (kg): 50.2
Warranty: 1.0 year
Similar Product
Category: Showcase Chillers