Von Hotpoint Rice Cooker HR2811GW in Kenya Rice Cooker 2.8L
Von Hotpoint Rice Cooker HR2811GW Prices in Kenya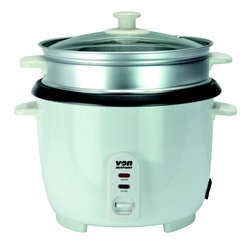 Von Hotpoint Rice Cooker HR2811GW Features
2.8 Litres
1000 Watts
Non-Aluminum steamer
Nonstick aluminum pot
Keep warm function
Thermostat for overheating protection
Serving spoon & measuring cup
Colour; White
12 months warranty
With this appliance, making rice will be hassle-free. Von Hotpoint Rice Cooker will simplify rice preparation. No matter the rice you are cooking, the rice cooker will cook it perfectly.
Advantages of Von Hotpoint Rice Cooker
Automatic cooking-with this rice cooker, manual interventions will be unnecessary. All you need to do is measure the right amount of rice you want to cook, add water, and press the button.  Once the cycle is complete the rice cooker shuts automatically. The rice is neither overcooked nor under-cooked.
Uniform cooking- unlike in traditional cookware where rice might be overcooked at the bottom, it does not happen with this rice cooker. With Von Hotpoint Rice Cooker you get uniformly cooked rice.
Makes rice non-sticky- Von Hotpoint Rice Cooker will solve the sticking problem. Each grain is separated from the others. Invest in the cooker and have perfectly cooked rice at home.
Keeps the rice warm
Von Hotpoint Rice Cooker has a keep-warm function which is a great benefit. The feature makes the rice cooker more convenient than the traditional cookware. Another important feature is that the rice cooker is good for any type of rice. You will be able to cook all grains perfectly. The Von Hotpoint Rice Cooker will definitely make things easier and hassle-free in the kitchen.
How to use the rice cooker
Measure the rice with the cup that comes with the rice cooker.
Add cold water with the correct water to rice ratio. Check the labels on the grains for correct water levels
Ensure all grains are pushed into the water and add flavoring to the rice like salt.
Turn the cooker on by pushing the right button.
Once the cycle is complete, the rice cooker shuts off automatically. It will keep the rice warm until you are ready to serve.
Serve using the spoon once ready.
Warranty: 1.0 year
Similar Product
Category: Rice Cookers