Von Hotpoint Blender HB392HX in Kenya Blender with Mill, 1000W, Glass Jar
Von Hotpoint Blender HB392HX Prices in Kenya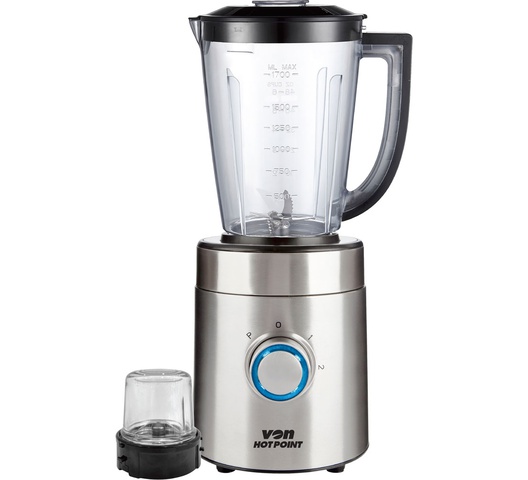 Von Hotpoint Blender HB392HX Product Specification
At Hotpoint it‎'‎s always been their mission to bring stylish‎,‎ intelligent appliances into your home‎.‎ With a history of trusted innovation‎,‎ they have real insight into the demands of modern life‎.‎ So they not only look great in your kitchen‎,‎ but also make life easier by delivering outstanding results.‎
This powerful 3 in 1 blender allows you all the perks of multiple blenders, in one handy 3 in 1 – blend all your drinks in the jar for at home drinking, or in the smoothie bottle for easy take away! You can also use the handy mill for grinding your spices to use in any recipe!
If you like to keep things simple in the kitchen, this Hotpoint Blender is just perfect for everyday blending tasks and comes with a mill attachment ideal for herbs, coffee beans and nuts. Order for this Hotpoint Blender online in Kenya today at a great, affordable price and let Patabay Kenya deliver it straight to your doorstep.
Design For Life
The Hotpoint H/Spec Blender brings together versatile attachments, high performance and a clean and stylish design, which looks good and works well in any kitchen.
Large capacity
This Blender has a huge capacity that means more space for your ingredients to chop for your food preparation.
Easy to Clean
This Blender is easy to maintain and keep in proper hygiene conditions because all the parts are dish washable.
Von Hotpoint Blender HB392HX Product Features:
Von Hotpoint 1.7litres blender with mill + filter
1000 watts
Durable powerful motor
Toughened glass for durability
Stainless steel blades
Extra jar options available
Safety lock
Stainless steel
Warranty: 1.0 year
Similar Product
Category: Blenders