RAMTONS Electric Kettle RM/398 in Kenya Cordless Stainless Steel Kettle 1.7 Litres
RAMTONS Electric Kettle RM/398 Prices in Kenya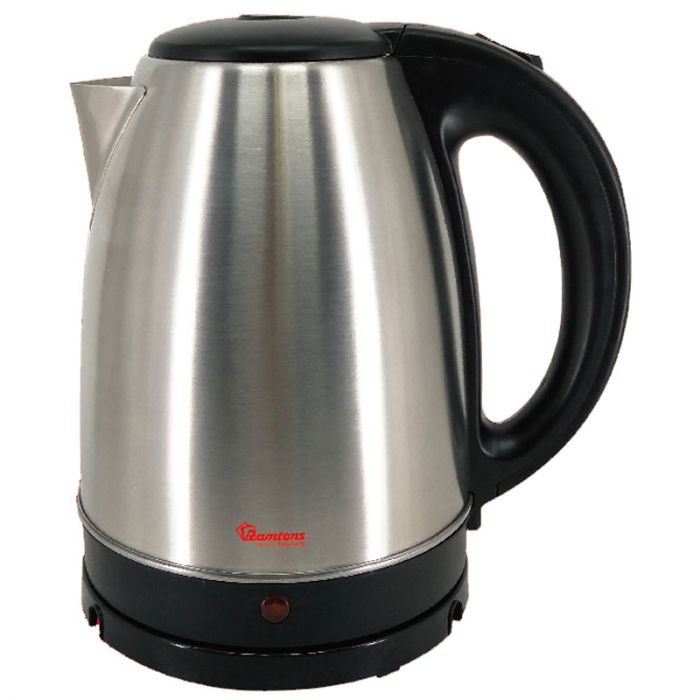 RAMTONS Electric Kettle RM/398 Product
Ramtons is a leading manufacturer of electronic home appliances.  Their products are affordable, innovative and durable.  For every household and kitchen need, Ramtons has an appliance that will make every task simple and fun and turns your house into a home.
Having hot water when you need it can simplify your life in many ways. From a quick cup of coffee, preparing baby formula to preparing a quick snack of cup noodles, you can accomplish these things and more in a heartbeat with Ramtons Automatic Electric Jug Kettles.  The fully automatic electric kettles are designed to simplify your life.
Warranty
All Ramtons products have a one year warranty.  Ramtons offers a warranty on all products, Ramtons will accept returns on items that have been proven to be dead or not working due to factory faults among other things. Warranty is also applicable for damages caused by mishandling other than the buyer or final recipient.
Quality
With Ramtons Home appliances you are assured of the best quality appliances. Genuine products with the best service and results for the users.
Great and Affordable Prices
Ramtons offers quality products at the best prices. Get unbeatable deals with Ramtons Home appliances.
Discounts and Offers
Ramtons products are often on discounts and sales. Look out for sales of Ramtons products on Patabay.co.ke
Guide on Installation and Use
Ramtons products come with guides on how to install and use. This is a very unique feature on all products by Ramtons.
Variety and Style
With Ramtons Home Appliances and other products, you get a wide range of products and styles to meet and satisfy your needs and preferences. This is the best way to meet customer preferences and to keep the customers happy.
RAMTONS Electric Kettle RM/398 Features
Capacity: 1.7Lts, 1850 – 2200 W
Manual lid opening, Anti-slip feet
Water gauge for easy viewing, Boil-dry protection
Automatically turns off when water boils
On/Off switch and indicator light
Cord storage- Spout with removable and washable filter
Similar Product
Category: Electric Kettles