Inspiron 11 3000 Series 2-in-1 Ex-UK
Inspiron 11 3000 Series 2-in-1 Ex-UK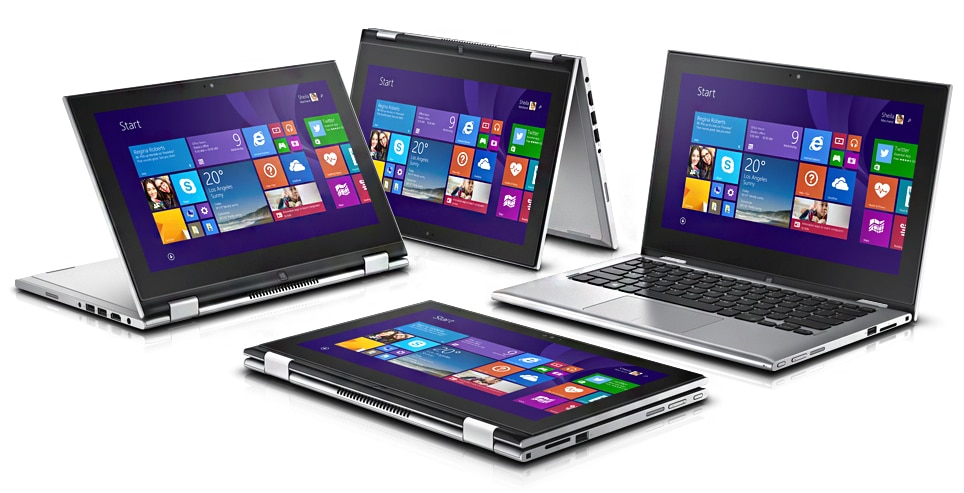 Flip back and relax
Tablet mode: A unique 360-degree hinge design lets you flip the keyboard around and lay it flat on your lap to edit presentations, swipe through photos or pull up your playlists.
Tablet stand mode: Transition the tablet to an upright position so you can play games, video conference, scroll through songs, watch movies.
Tent mode: Watch the news, the game or catch up on your shows with your Inspiron 11 in a hands-free easel position that supports full touch interaction.
Laptop mode: With a full-sized keyboard, create presentations, edit spreadsheets, reply to emails faster or knock out school projects.
---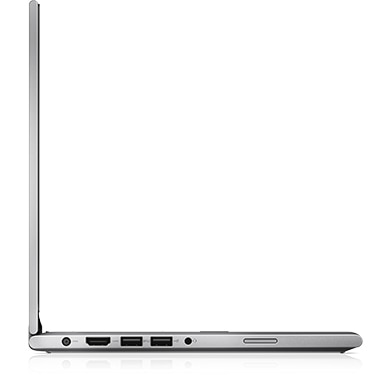 Fully loaded and ready to roll
Reliable technology:Up to 6th Gen Intel® Core™ processors offer speed and efficiency for responsive performance whether you're surfing the web, writing a paper or uploading photos. Get the Intel®-level performance you've come to expect.

Excellent battery life: Go longer between charges and spend more time away from the outlet doing what matters. Up to 7 hoursi.
More storage: Available solid-state drive (SSD) options provide longer battery life, quicker responsiveness, quieter performance and improved shock resistance compared to conventional hard drives.
Thin and light: This compact 2-in-1 weighs only 3.3 poundsi and measures under an inch thin at only 19.4mm, so it's lightweight enough to carry with you.
Memory keeper: With 4GB of memory, multitaskers can keep multiple apps open at the same time. Switch between work and play seamlessly without slowing down your Inspiron 11.
---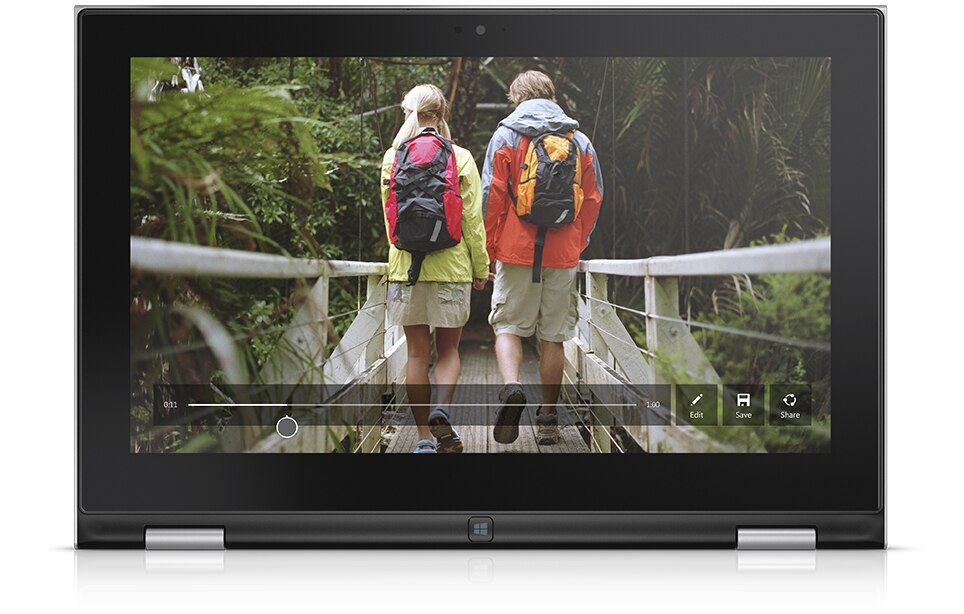 The HD difference
Scan social media. Stream your favorite content. Whatever you like to do, you can do it in HD (1366×768). The 11.6″ edge-to-edge touch display is easy to navigate so you can tap, scroll and zoom your way around the screen.
---
Connect and share faster
Latest operating system: The Inspiron 11 features Windows 8.1 to ensure easy navigation as you tap, swipe, pinch and stretch your way around the web with impressive touch responsiveness. The latest version of Windows also lets you personalize your Inspiron 11 with great new apps and features.
Long-range WiFi: Stay connected while you're out and about with the latest WiFi for long-range wireless performance – perfect for fast downloads on the go.
Software that simplifies: Access the files you need when you're away from home or office with 20GB of free Dropbox cloud storage for 12 months and PocketCloud 2.0 for one device.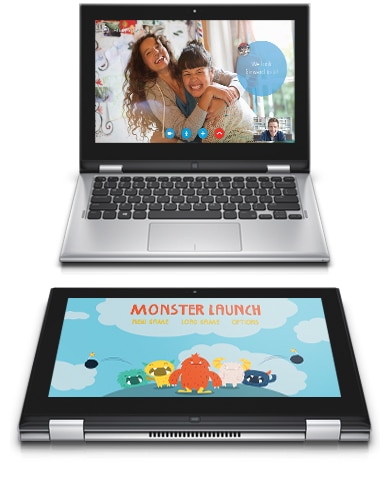 ---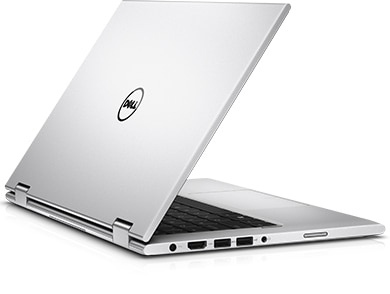 Convenience is in the details
Studio-quality sound
Whether you're mixing or streaming, Waves MaxxAudio™ delivers professional audio that's just what you need to take your movies, music and presentations to the next level. Dual noise-cancelling microphones filter out background noise while you chat online so you can concentrate on catching up.
Plenty of ports
It's easy to connect to your other devices via HDMI, which allows you to link up your Inspiron 11 to another monitor or TV for even better resolution. A USB 3.0 port and SD media card reader save you time on large file transfers to external devices like hard drives, cameras or video recorders.
---
Designed for the real world-because that's where life happens.
We want you to love your new PC for years to come. That's why we test Inspiron laptops for reliability not just in the places where you expect it, but for the open road ahead.
Turn up the heat: From locker rooms to locked cars, we test Inspiron laptops for survival in harsh short-term heat conditions of up to 65°C/149°F.
Everything hinges on it: We test Inspiron laptop hinges to ensure they still feel tight, even after opening and closing the lid 20,000 times.
Keys to success: We test commonly used keys for 10 million keystrokes and touch pad buttons 1 million times with no failure. So go ahead, finish your novel.
Buttoned up: No matter what you set your power and multimedia buttons to do, we've tested them all to survive up to 40,000 pushes with no problems.
Twist and turn: Call us excessive, but after twisting an Inspiron laptop's base and lid more than 25,000 times, we can assure you the parts inside are well protected.
In for the long haul: Systems undergo at least 10,000 hours of highly accelerated life testing to ensure it's ready for the real world.