Hotpoint Von Heater VSHC2090K in Kenya 2KW Oil Filled Radiator Heater, 9 Fins – Black
Hotpoint Von Heater VSHC2090K Prices in Kenya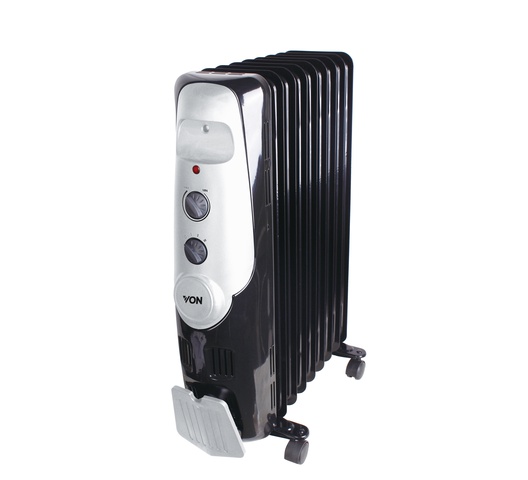 Hotpoint is a leading manufacturer of electronic home appliances.  Their products are affordable, innovative and durable.  For every household and kitchen need, Hotpoint has an appliance that will make every task simple and fun and turns your house into a home.
Hotpoint Von Heater VSHC2090K Powerful & Compact
They are Powerful enough to provide maximum comfort for any room and is ideal for indoor spaces.
Tip-over Protection
This fan heater for home is equipped with a safety tip-over switch which automatically shuts off the fan element if the electric fan get knocked over accidentally to help prevent accidents. Do not need to worry about the pets or kids tipping over the fan any more.
Hotpoint Heaters are Easy Controls
Easy-to-use adjustable thermostat to provide that necessary extra warmth no matter where you are in the house. 4 Position Switch Functions (off/fan/low/high).
Hotpoint Heaters have an Integrated Handle
They Makes it easy to move the fan heater. Thanks to the heater's compact size and convenient carry handle you can easily move the heater from the kitchen, to the bedroom, or even under the desk..
Hotpoint heaters have a Great Watt Power Delivery
Experience powerful, consistent heat output in small areas with the Hotpoint fan heater in Kenya. Featuring a quick-heating element with three output options including low, high, and fan-only, you can adjust for a variety of situations. Through the power of rotating oscillation, the unit's heat is dispersed in multiple directions, providing better overall air and temperature circulation.
Hotpoint Von Heater VSHC2090K Features
Wide 9 Fins
Adjustable thermostat
Overheating protection system
Power Indicator lights
Safety function – trip-over switch
Easy-moving wheels
With environment safe oil
Low noise
Inbuilt cord storage
Power supply: 220-240V/50Hz
BS Plug
Length of Power Cord: 1.7m
Warranty: 12 months
Similar Product
Category: Heaters