Hotpoint Electric Kettle HK117FK in Kenya 1.7L Corded Kettle
Hotpoint Electric Kettle HK117FK  Prices in Kenya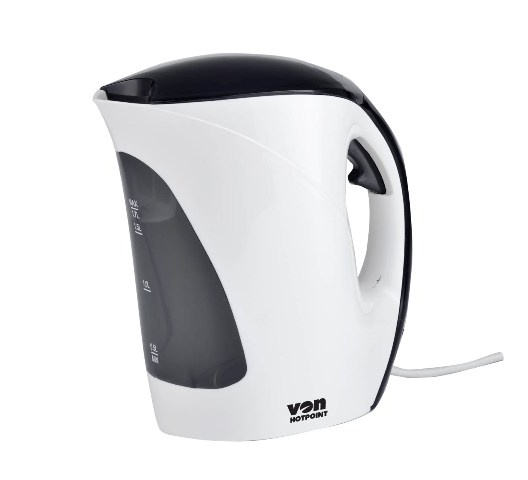 Hotpoint Electric Kettle HK117FK Descriptions
At Hotpoint it's always been their mission to bring stylish, intelligent appliances into your home. With a history of trusted innovation, they have real insight into the demands of modern life. So they not only look great in your kitchen, but also make life easier by delivering outstanding results. Sprout design, Stainless steel heating component,Large transparent water window,
Von Hotpoint Kettle is a handy appliance that heats up water fast and uses less electricity. Making hot drinks will be fast and since the kettle switches off automatically after the water boils you are saved the hassle of staying alert. A kettle is an important appliance to have in your kitchen.
Energy efficient
Von Hotpoint Kettle has a power rating of 2200W. It is able to heat up water a faster rate and you end up saving on your electricity. The kettle boils water within a short span of time.
Safe appliance
Von Hotpoint Kettle comes with the auto shut-off feature. The kettle stops the boiling process as soon as the water starts bubbling. The feature also protects you from the dangers of spillage or over-boiling. The jug is made of a plastic, which an insulator is protecting you from burns associated with metallic jugs.
Time saver
Von Hotpoint  Kettle makes your work easy by saving you time. The power in the kettle is enough to boil water in a short period. The kettle uses approximately 80% of the energy to boil water fast.
Convenient
Von Hotpoint Kettle is a very useful appliance. You can plug it wherever there is a power outlet and will do it work. You place it on the kitchen table, on the counter or anywhere where the cord allows. The handle is comfortable to the hands making it simple to use. The kettle has a stainless steel cord that heats water fast.
About Von Hotpoint
Hotpoint is a household name when it comes to electronic appliances in Kenya. The company delivers quality, durable and incredible appliances.
Hotpoint Electric Kettle HK117FK Features
1.7Lts Plastic jug kettle
Corded
2200W
Boil-dry protection
Sprout design
Indicator lamp
Stainless steel heating element
Large transparent water window
Black in colour
Warranty: 1 year
Similar Product
Category: Kettles