Bosch Washing Machine WVG3046SGB in Kenya Washer/Dryer Front Load 8/5KG – Silver
Bosch Washing Machine WVG3046SGB Prices in Kenya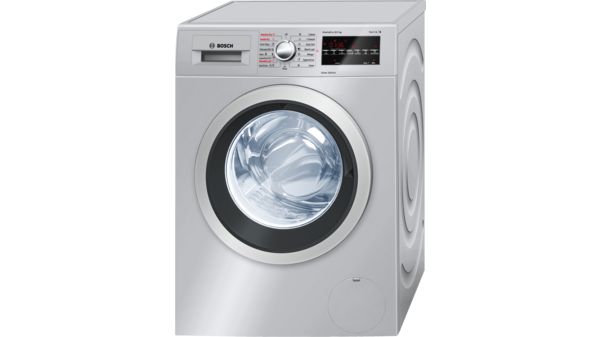 The whisper quiet washing machine.
The innovative AntiVibration design of the side walls is not only eye catching: the system also provides more stability and reduces vibration. The enhanced insulation also regulates noise levels, making Bosch washing machines very quiet, even during the spin cycle.
Bosch Washing Machine WVG3046SGB Hygiene Care
Add hot air before washing and sterilize, then wash the clothes at room temperature, reduce the high temperature which causes unnecessary energy consumption. Clean clothes while saving energy and also reduce clothing damage.
Drum Clean
Before washing your clothesr, the drum itself should, of course, be clean enough. The drum cleaning program, which is designed for the cleaning of the drums, is easy to clean the drums, and the layers are checked for each cleaning step to provide excellent cleaning results.
EcoSilence System
Intelligent technologies like EcoSilence Drive™ reduce noise, so that the laundry can be done whilst the baby's asleep. You can be sure to achieve the very best results: a perfect washing performance for those among us who want to remain undisturbed.
Bosch Washing Machine WVG3046SGB Features
8/5 Kg Washer/Dryer Combo
Led Panel with Elegant Touch Control
13 Washing Programs (Cotton, Pre-Wash, Easy-Care, Mixed Load, Allergy+, Hygiene Care, Down, Drum Clean, Delicates/Silk, Wool, Super Quick 15 Minutes, Spin/Drain, Rinse)
Wash and Dry 60 Minute Program
Temperature Selector
Rpm Selector
Control Panel Locking System
Speed Perfect (Saves Time)
Eco Perfect (Saves On Energy)
Aqua Plus
Dry Only Option
Load Recommendation Option
Flow Sensor For Optimal Water Usage
Variosoft Drum
Activewater Plus
Foam Detection Feature
Unbalanced Load Detection
Overdosage Indication
Silver Finish
Similar Product
Category: Washing Machines