Bosch Washing Machine WAT2846XZA in Kenya Washing Machine Front Load 8KG Silver
Bosch Washing Machine WAT2846XZA Prices in Kenya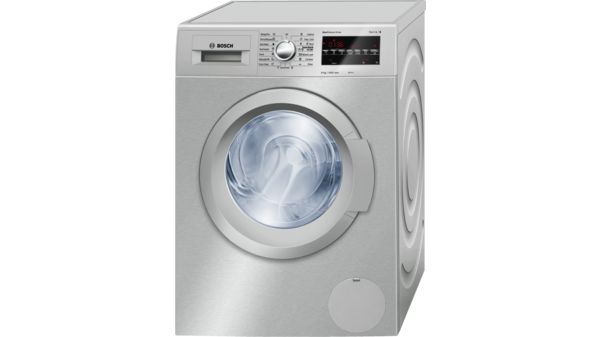 The whisper quiet washing machine.
The innovative AntiVibration design of the side walls is not only eye catching: the system also provides more stability and reduces vibration. The enhanced insulation also regulates noise levels, making Bosch washing machines very quiet, even during the spin cycle.
Powerful but gentle wash for your most beloved items
Your favorite or delicate clothes can end up ruined wash after wash. The unique, patented VarioDrum system gently and efficiently wash all types of clothing by even water distribution and without stretching, creasing or damaging your most beloved items. Depending on the selected programme, the droplet-shaped design and the asymmetrical paddles gently rotate your laundry to the centre, regardless of the rotation direction. This not only ensures an intensive clean for more heavily soiled garments, but a quicker, more thorough clean for the entire load.
Bosch Washing Machine WAT2846XZA Drum Clean
Before washing your clothesr, the drum itself should, of course, be clean enough. The drum cleaning program, which is designed for the cleaning of the drums, is easy to clean the drums, and the layers are checked for each cleaning step to provide excellent cleaning results.
EcoSilence System
Intelligent technologies like EcoSilence Drive™ reduce noise, so that the laundry can be done whilst the baby's asleep. You can be sure to achieve the very best results: a perfect washing performance for those among us who want to remain undisturbed.
Bosch Washing Machine WAT2846XZA Features
EcoSilence Drive™: extremely energy-efficient and quiet in operation with an especially long life.
Energy efficiency class A+++ -30%: 30% more efficient than the top class
Energy Consumption indication: indication of energy consumption at selection of program.
DrumClean with reminder function: program for cleaning and maintaining the drum.
VarioPerfect TM: takes 65% less time or uses 50% less energy – thanks to freely selectable program options.
Similar Product