Bosch Washing Machine WAK2427SZA in Kenya Washing Machine Front Load 7KG Silver
Bosch Washing Machine WAK2427SZA Prices in Kenya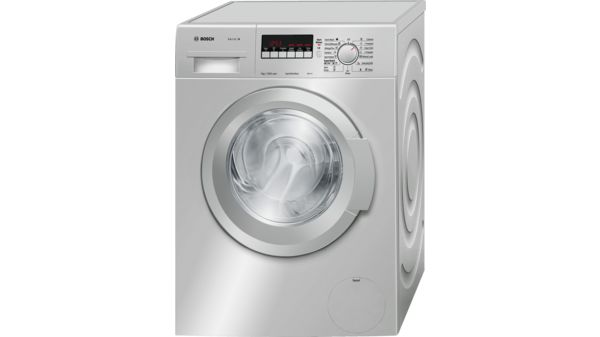 The whisper quiet washing machine.
The innovative AntiVibration design of the side walls is not only eye catching: the system also provides more stability and reduces vibration. The enhanced insulation also regulates noise levels, making Bosch washing machines very quiet, even during the spin cycle.
Bosch Washing Machine WAK2427SZA Outstanding washing results thanks to optimum water distribution
This drum thinks for itself: The droplet-shaped structure and the size of the paddles ensure faster and more even water distribution – producing outstanding washing results.
Never miss an item again. Reload by Bosch.
For any forgotten items of laundry, Reload by Bosch allows you to add or remove clothing to your washes. Just stop the running cycle and open the door of the washing maching to simply reload your additional items into the drum and continue the wash.
Bosch Washing Machine WAK2427SZA Features
VarioPerfect TM: takes 65% less time or uses 50% less energy – thanks to freely selectable program options.
Champion energy saver A+++: no other washer washes more efficiently.
VarioDrum: especially gentle and efficient washing thanks to a unique drum structure.
ActiveWater™: saves water and costs thanks to a 2-step automatic load adjustment system.
ECARF Quality Seal: specially developed with allergy sufferers and sensitive skin in mind.
Similar Product